Introduction and performance table of neodymium iron boron magnets
The third-generation rare earth permanent magnet NdFeB is the most powerful permanent magnet among contemporary magnets. Its BHmax value is 5-12 times that of ferrite magnets and 3-10 times that of alnico magnets; its coercive force is equivalent to 5-10 times that of ferrite magnets and 5 to 10 times that of alnico magnets. 15 times, its potential magnetic properties are extremely high, and it can suck up heavy objects 640 times its own weight.
Since the main raw material iron of neodymium iron boron magnets is very cheap, the reserve of rare earth neodymium is 10-16 times more than that of samarium, so its price is much lower than that of samarium cobalt magnets.
The mechanical properties of neodymium iron boron magnets are better than samarium cobalt magnets and alnico magnets, and it is easier to cut, drill and process complex shapes.
The disadvantage of neodymium iron boron magnet is its poor temperature performance, large magnetic loss when used at high temperature, and low maximum working temperature. Generally, it is about 80 degrees Celsius, and the maximum working temperature of a specially treated magnet can reach 200 degrees Celsius. Because the material contains a lot of neodymium and iron, it is easy to rust and it is also a major weakness. Therefore, neodymium iron boron magnets must be surface coated. It can be electroplated with nickel (Ni), zinc (Zn), gold (Au), chromium (Cr), epoxy resin (Epoxy), etc.
NdFeB magnets are currently widely used in industrial aerospace, electronics, electromechanical, instrumentation, medical and other fields. And the use of non-technical fields is becoming more and more extensive, such as adsorption magnets, toys, jewelry and so on.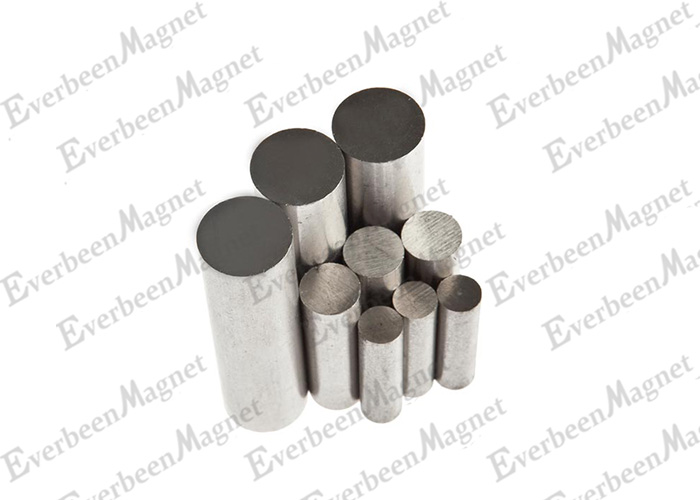 Ingredients---->Smelting---->Pulverizing---->Forming---->Sintering---->Testing---->Machining---->Plating----> Magnetization---->Inspection---->Packaging
Magnetic Properties of NdFeB Magnets
material

Grade

Br

Hcb

Hcj

(BH)max

TW

T

KGs

KA/m

KOe

KA/m

KOe

KJ/m3

MGOe

°C

N35

1.17-1.21

11.7-12.1

876-899

11.0-11.3

≥955

≥12

263-279

33-35

≤80

N38

1.22-1.26

12.2-12.6

876-923

11.0-11.6

≥955

≥12

287-303

36-38

≤80

N40

1.26-1.29

12.6-12.9

876-923

11.0-11.6

≥955

≥12

303-318

38-40

≤80

N42

1.30-1.33

13.0-13.3

876-926

11.0-11.6

≥955

≥12

318-334

40-42

≤80

N45

1.33-1.37

13.3-13.7

876-926

11.0-11.6

≥955

≥12

342-358

43-45

≤80

N48

1.36-1.42

13.6-14.2

876-926

11.0-11.6

≥955

≥12

358-382

45-48

≤80

N50

1.41-1.45

14.1-14.5

828-907

10.4-11.4

≥876

≥11

382-398

48-50

≤70

N52

1.44-1.48

14.4-14.8

828-907

10.4-11.4

≥876

≥11

394-414

49.5-52

≤70

N35M

1.17-1.21

11.7-12.1

892-915

11.2-11.5

≥1114

≥14

263-279

33-35

≤100

N38M

1.22-1.26

12.2-12.6

907-931

11.4-11.7

≥1114

≥14

287-303

36-38

≤100

N40M

1.26-1.29

12.6-12.9

907-947

11.4-11.9

≥1114

≥14

303-318

38-40

≤100

N42M

1.30-1.33

13.0-13.3

907-947

11.4-11.9

≥1114

≥14

318-334

40-42

≤100

N45M

1.33-1.37

13.3-13.7

907-955

11.4-12.0

≥1114

≥14

334-358

42-45

≤100

N48M

1.36-1.42

13.6-14.2

907-955

11.4-12.0

≥1114

≥14

358-382

45-48

≤100

N50M

1.41-1.45

14.1-14.5

907-971

11.4-12.2

≥1114

≥14

382-398

48-50

≤100

N33H

1.14-1.17

11.4-11.7

820-876

10.3-11.0

≥1353

≥17

247-263

31-33

≤120

N35H

1.17-1.21

11.7-12.1

860-907

10.8-11.4

≥1353

≥17

263-279

33-35

≤120

N38H

1.22-1.26

12.2-12.6

907-947

11.4-11.9

≥1353

≥17

287-303

36-38

≤120

N40H

1.26-1.29

12.6-12.9

907-947

11.4-11.9

≥1353

≥17

303-318

38-40

≤120

N42H

1.30-1.33

13.0-13.3

907-947

11.4-11.9

≥1353

≥17

318-334

40-42

≤120

N45H

1.33-1.37

13.3-13.7

907-947

11.4-11.9

≥1353

≥17

342-358

43-45

≤120

N48H

1.36-1.42

13.6-14.2

907-971

11.4-12.2

≥1274

≥16

358-382

45-48

≤110

N30SH

1.08-1.12

10.8-11.2

804-844

10.1-10.6

≥1592

≥20

223-239

28-30

≤150

N33SH

1.14-1.17

11.4-11.7

820-876

10.3-11.0

≥1592

≥20

247-263

31-33

≤150

N35SH

1.17-1.21

11.7-12.1

860-907

10.8-11.4

≥1592

≥20

263-279

33-35

≤150

N38SH

1.22-1.26

12.2-12.6

907-947

11.4-11.9

≥1592

≥20

287-303

36-38

≤150

N40SH

1.26-1.29

12.6-12.9

907-947

11.4-11.9

≥1592

≥20

303-318

38-40

≤150

N42SH

1.30-1.33

13.0-13.3

907-947

11.4-11.9

≥1592

≥20

318-334

40-42

≤150

N45SH

1.33-1.37

13.3-13.7

907-947

11.4-11.9

≥1512

≥19

342-358

43-45

≤140

N28UH

1.04-1.08

10.4-10.8

780-812

9.8-10.2

≥1990

≥25

207-223

26-28

≤180

N30UH

1.08-1.12

10.8-11.2

804-844

10.1-10.6

≥1990

≥25

223-239

28-30

≤180

N33UH

1.14-1.17

11.4-11.7

820-876

10.3-11.0

≥1990

≥25

247-263

31-33

≤180

N35UH

1.17-1.21

11.7-12.1

860-907

10.8-11.4

≥1990

≥25

263-279

33-35

≤180

N38UH

1.22-1.26

12.2-12.6

907-947

11.4-11.9

≥1990

≥25

287-303

36-38

≤180

N40UH

1.26-1.29

12.6-12.9

907-947

11.4-11.9

≥1990

≥25

303-318

38-40

≤180

N28EH

1.04-1.08

10.4-10.8

780-812

9.8-10.2

≥2388

≥30

207-223

26-28

≤200

N30EH

1.08-1.12

10.8-11.2

804-844

10.1-10.6

≥2388

≥30

223-239

28-30

≤200

N33EH

1.14-1.17

11.4-11.7

820-876

10.3-11.0

≥2388

≥30

247-263

31-33

≤200

N35EH

1.17-1.21

11.7-12.1

860-907

10.8-11.4

≥2388

≥30

263-279

33-35

≤200

N38EH

1.22-1.26

12.2-12.6

860-907

10.8-11.4

≥2388

≥30

287-303

36-38

≤200

N30AH

1.08-1.12

10.8-11.2

804-844

10.1-10.6

≥2786

≥35

223-239

28-30

≤240
Tags: neodymium magnets neodymium iron boron magnets Smco magnets